150,000 Hearts: The National Covid Memorial Wall
Campaigners are asking the Prime Minister to make the memorial permanent
Running almost 500 metres from Westminster Bridge to Lambeth Bridge, directly opposite and clearly visible from the Houses of Parliament in Westminster, a swathe of small painted red hearts now stretches into the distance along the Thames Embankment.
Volunteers began work on the National Covid Memorial Wall on 29 March 2021, hand painting hearts on to the wall. With the help of more than 1000 people, including the bereaved and NHS staff, the memorial quickly filled up. Just over a week later, on 8 April 2021, Fran Hall – a member of the Covid-19 Bereaved Families for Justice group – painted the last of approximately 150,000 hearts on to the wall, one for each of the people who have lost their lives to Covid-19 in the United Kingdom so far.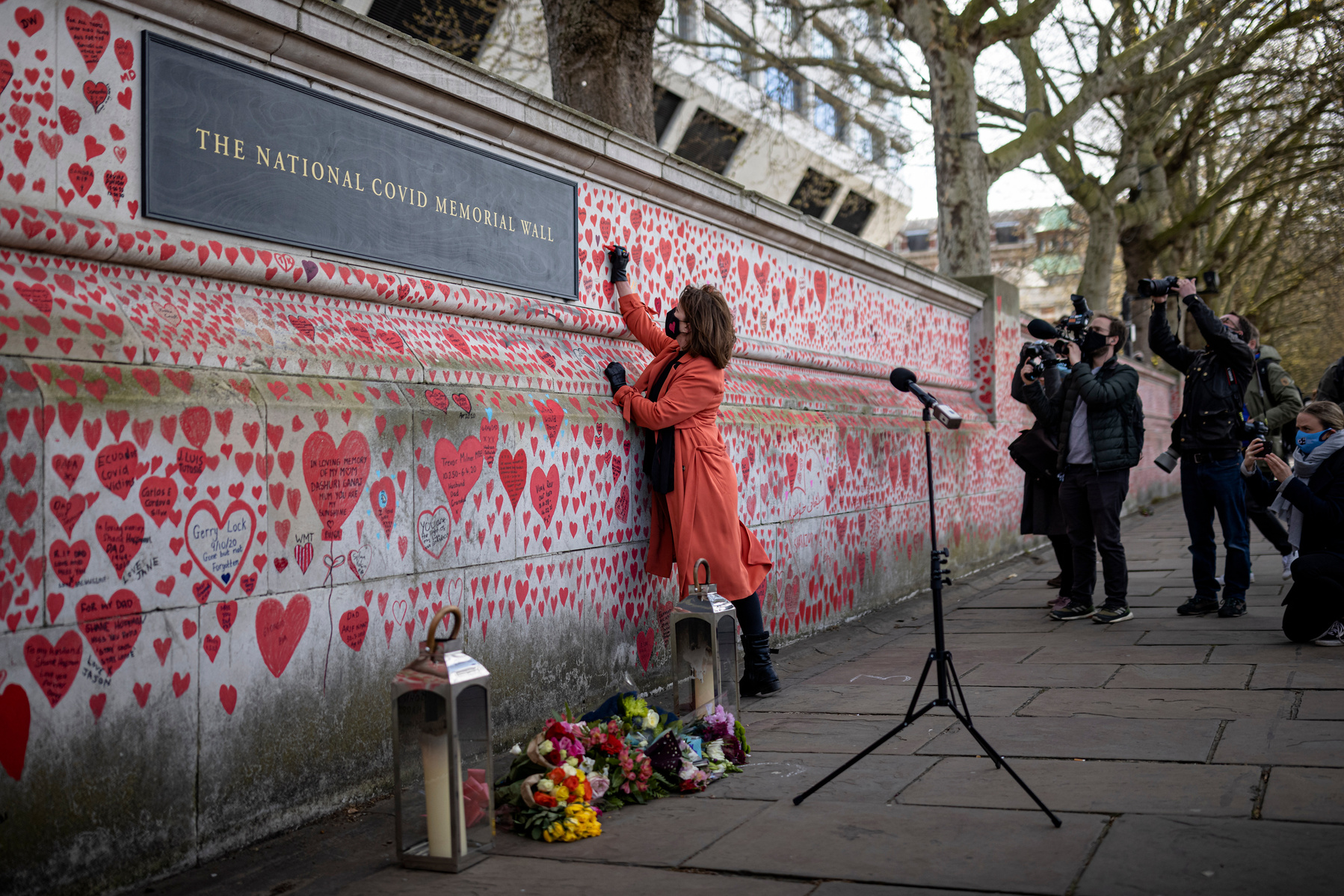 The loss of a loved one during the pandemic, often under lockdown restrictions, has meant that many people have also had to grieve in isolation. In comments to the media, Matt Fowler – the co-founder of Covid-19 Bereaved Families for Justice who lost his father Ian to the virus and painted the first heart on to the wall, said: 'Grieving in isolation has been so tough, but here for the first time it feels like we're together again,' adding that it had been 'so moving to see bereaved families, NHS staff and members of the public come together to create a space for us to reflect on this national trauma'.
For me, this also feels very personal: I lost my grandmother early on in the pandemic. After a mercifully brief illness, she died in the care home she had been living in since the summer of 2019. She was 99.
For someone whose life was so full of people, and who always took such immense joy from being in the company of others, it was inescapably sad that so few were able to attend her funeral. Only my mum and dad, and my partner and I, were able to be there in person – stood apart from each other across the aisle of the chapel. And like so many other families, we have so far only been able to get together virtually on Zoom to remember her together and share a toast to her life.
The National Covid Memorial Wall started without permission, but campaigners are now asking the Prime Minister to make the memorial a permanent one. And more hearts will be added as the death toll continues to rise. 'Memorials begin when they're completed' Matt Fowler said. 'So this isn't an end, it's a beginning.'
These pictures were taken on 8 April, as the last of 150,000 hearts was added to the wall, and the families of those who had died from Covid-19 were invited to walk the length of the memorial.